History
A brief history of our funeral home.
Heber R. and Wilhelmina Blough purchased the real estate at 314 South 6th Street in Marshall, IL from Kate I. Boothe in December of 1929. The Blough's had purchased a funeral business from Mr. Horace Dewey who had operated his business where the Clark County Genealogoical Society is now located.

The Dewey business not only included a funeral parlor, but also a furniture store. Dewey left the Marshall area and joined his brother in a funeral business in Greenville, IL. That business is still in existence today, known as the Young Funeral Home.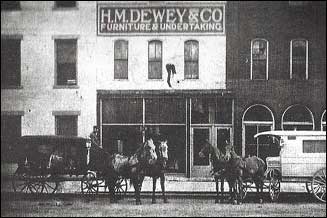 Heber Blough, a native of Goshen, Indiana, opened the Blough Funeral Home in Marshall in 1929. At that time, there were few funeral homes as we know today. Most funeral services were held in a church or residence. The visitation was usually held at the residence. It was also a common practice that the embalming of the deceased be done at the home. The funeral director would transport a piece of equipment referred to as a "couch board". The embalming preparation would be done on this couch board and the remains would be covered with cloth until the family would go to the casket store and purchase a casket. The casket would then be taken to the residence and the remains would be placed in the casket at that time. It was necessary for the undertaker to take lamps, chairs, flowers and much more equipment to the house for the visitation. There were many times that it was necessary for the undertaker to take batteries (like a car battery) to the house to provide electricity.
After Blough purchased the undertaking business from Dewey, he decided to open a funeral home and the location of 314 S. 6th Street was selected. At this time, most people who were involved with funeral service had another occupation. Many owned hardware stores, furniture stores, livery services or anything else they could do to help make a living. The word "undertaker" actually refers to someone who undertakes many professions.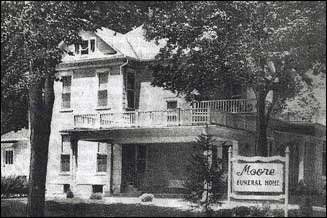 On May 31, 1937, Heber Blough passed away due to pulmonary tuberculosis. It was thoguht Blough had contracted this disease through his profession. At the time, there were few precautions that could be taken to prevent the spread of disease.
During Mr. Blough's illness, Basil Moore became an employee of the Blough Funeral Home, as Mr. Blough was unable to do much of the physical work that was required. Following his death, Basil Moore continued to work for Mrs. Blough.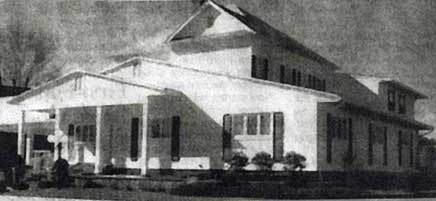 In 1943, Basil and Helen Moore purchased the business from Mrs. Blough. Shortly thereafter, Mrs. Blough moved to Colorado to be with family, passing away several years later.
The name of the funeral home was changed to Moore Funeral Home and Basil and Helen operated it until July 1, 1979 when they sold it to Ed and Bev Pearce. It was renamed to the Moore-Pearce Funeral Home. In October of 1985, the funeral home became known as Pearce Funeral Home and continues operation under that name. Basil Moore passed away on October 14, 1999 and Helen passed away April 6, 2002.
There have been other funeral homes in Marshall. Some of the other funeral directors include Charles Bubeck, Joe Gallagher, Benton Marrs and Richard Snyder and there were several before them.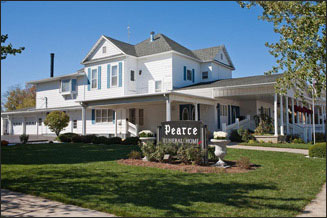 ---